One of the most common styles for Tiki Huts is the Tiki Hut Umbrella. You inevitably will not miss one in any resort in the state of Florida. This kind of Tiki Hut is popularized by the size of the space it takes. If yours is a relatively small space that you would like to transform it into a small paradise, we strongly recommend you install a Tiki Hut Umbrella.
You can have this Umbrella in your commercial site or in your residence.
In your residence, it allows you to tame the scorching sun so you can have some good time outdoors. It literally brings a resort-like feeling right to your backyard. When decorated with good lighting, the place becomes your little heaven! You can have coffee with your family right there, or even dinners. It is a perfect place to relax after work.
📌 REMEMBER, YOU CAN CHOOSE YOUR COLUMN OR POST TYPE BELOW FOR ANY OF YOUR DESIGNS:
⚠️You May Also Be Interested in Our Other Type of Tiki Hut Designs:⚠️
For commercial Tiki Hut Umbrellas, you can have them over the pool table, in beach fronts or even in hotels and restaurants.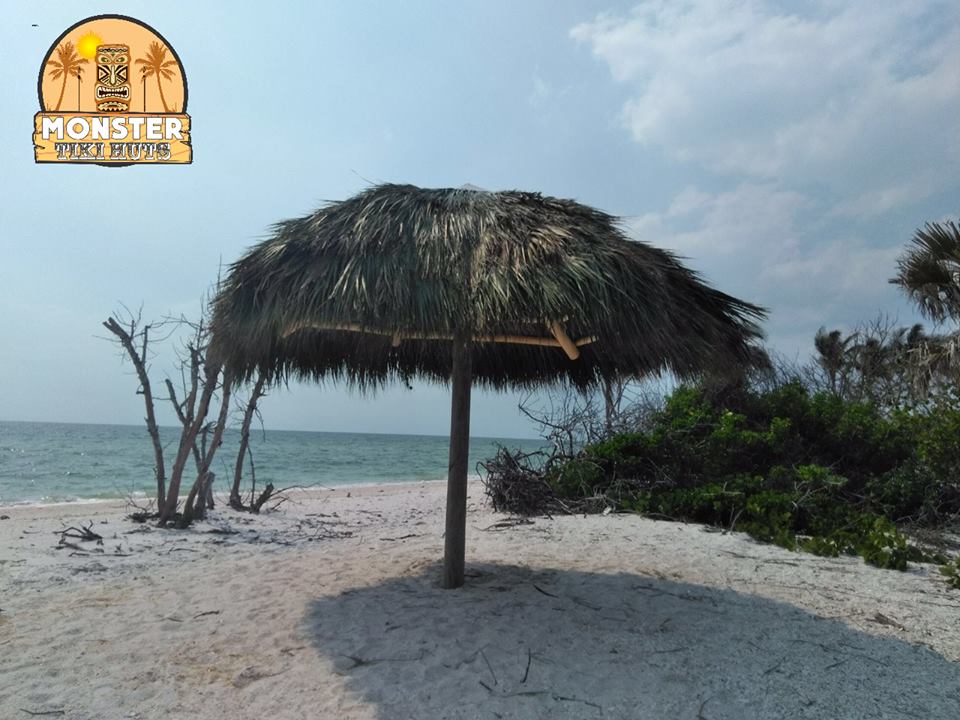 If you are looking for reputable tiki hut builders, you are just in the right place. We at Monster Tiki build tiki hut umbrellas statewide in Florida. We transform even the dullest of places into high-end destinations that are coveted for leisure and events.
CHECK OUT A RECENT PROJECT FROM START TO FINISH:
(Click On the Photo To Enlarge)
This is how the project turned out below. Needless to say, the owner LOVED our work of art!

Benefits Of Adding a Tiki Hut Umbrella to Your Backyard:
Monster Tiki Hut Umbrellas

Pre Assembled Tiki Umbrella Kits

✅Allows for customization

✅can build different layouts and designs

✅can be unique according to your specs

✅can be made of heavy-duty materials

✅will last for many years

✅can be made differently, with posts at different heights

✅All construction will be build using state building codes

✅Natural Shade

✅Eco-Friendly

✅Budget-Friendly

⛔made of light & cheap materials

⛔thatch may not be waterproof

⛔the thatch usually lasts for over a year

⛔is lightweight, can fly away in strong winds

⛔cannot be customized

⛔once you buy it, you have to assemble
Other Things To Consider When Purchasing An Online Tiki Hut Umbrellas
⚠In order to allow the umbrella to be shipped from the manufacturer right to your site, it has to be light in weight. And what does that mean? It means it should be made of light materials. The outcome is an umbrella that can be carried easily by wind, an umbrella that does not last for long and one that breaks if the wind gets worse.
⚠If the umbrella is preassembled, it means you did not take part in designing it. This means it cannot be customized to meet your day to day needs.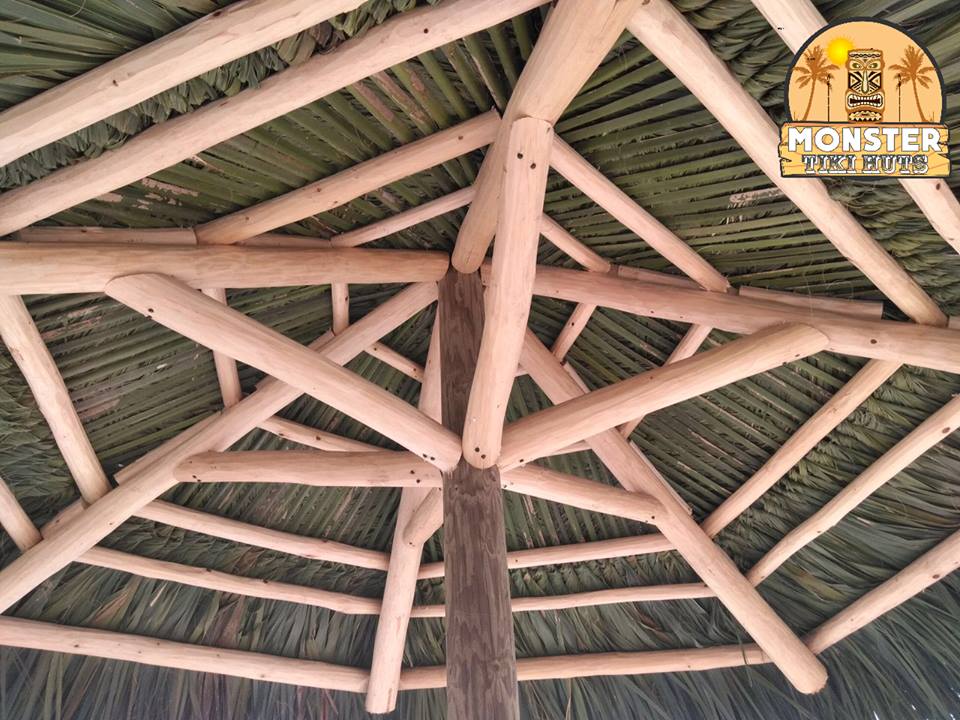 Perfect Tiki Huts for Beach Fronts, Backyard, Patios & More
Where can this kind of umbrellas be best installed?
It could be on the beach. It could outside a restaurant. It could be in your backyard. You name anywhere you would like a shade, and that where you simply should install your Tiki Hut umbrella. Monster Tiki specializes in building tiki huts with over two decades of hands-on experience!
You can have them installed over Concrete Slabs or even Pavers

You can install in Wooden Decks

Tiki Hut umbrellas can also be installed in patio Areas

You also will love them over Docks and Waterways

They are also best when installed in Backyards when space is small

Lawn Areas? Also convenient!
Tiki Hut Umbrellas Prices:
We do not have specific pricing for this service. There a number of aspects that will influence the cost. We would very well tell you the price for the service if we were dealing with preassembled Tiki Hut Umbrellas.
Since we build on site, we do the pricing based on the following aspects:
The size –Pricing will thus be made depending on how big or small you want it

The location of your site in the state of Florida.

Permit & Design Fees
Check Out Some Of Our Recent Tiki Hut Umbrellas:
✅Monster Tiki Hut Umbrellas are great for both residential & commercial locations in Florida.✅
Check Out other Recent Projects:
Contact Monster Tiki to begin your backyard project!